The crew of Rock & Roll takes great pride in giving you the best possible experience you can have on the water. You will not find a crew more committed to show you a great time than us!
*We are very proud of the emails that we receive. Here are just a few examples from our satisfied customers. Thank you for your compliments and continued patronage. -Capt. TJ.
Be sure to read our reviews on Facebook!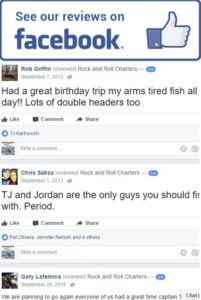 _________________________________________________________________________________________
-Hi TJ, Thank you for a great fishing trip for my grandson Eric and his friends. They enjoyed their fishing experience with you and it will be nice memories for them and me. Thank you again and I hope we will do it sometime in the future.
Peter R.
-Hi Captain,
I just wanted to send you a quick note about our experience with you. Let me say that you are a top notch captain with a really good personality. You put us right on the fish right off the bat, we all had a great time thank you! I would highly recommend you to anyone. You are truly a professional and with one great attitude for a fun time for anyone who comes on board. And may I add that is one nice boat! You can eat off the engines. If we ever want to fish again and that we will, It will only be on the Rock & Roll!
Sincerely,
Lee S.
-Thanks for a great day, we had a blast! A first class operation, we will all be looking forward to our next trip with you.
Jeff S.
-Hey Capt. TJ,
Just wanted to pass along another THANK YOU to you and Rich for a great day of fishing. I've sent the pictures to everyone I know and they all want to know who we went with. We have gone with many charters………and we enjoyed fishing with you guys the best. Especially how you made the trip special for my boys.
Thanks again,
Steve G
-Captain T.J. and Rich – We want to thank you for a very nice fishing day. It is a memory we will all cherish and will not hesitate to recommend you to others.
Jim E.
-Hi TJ,
Just a note of thanks. We really enjoyed ourselves today and look forward to seeing you again next summer. Everything was top notch. Our pictures came out great, we look like pros! Thank first mate Kyle also, he has just the right personality for the job!
Thank you again.
Yours truly,
Darlene A.
_________________________________________________________________________________________________
JOIN OUR EMAIL LIST TODAY TO RECEIVE OUR E-NEWSLETTERS!